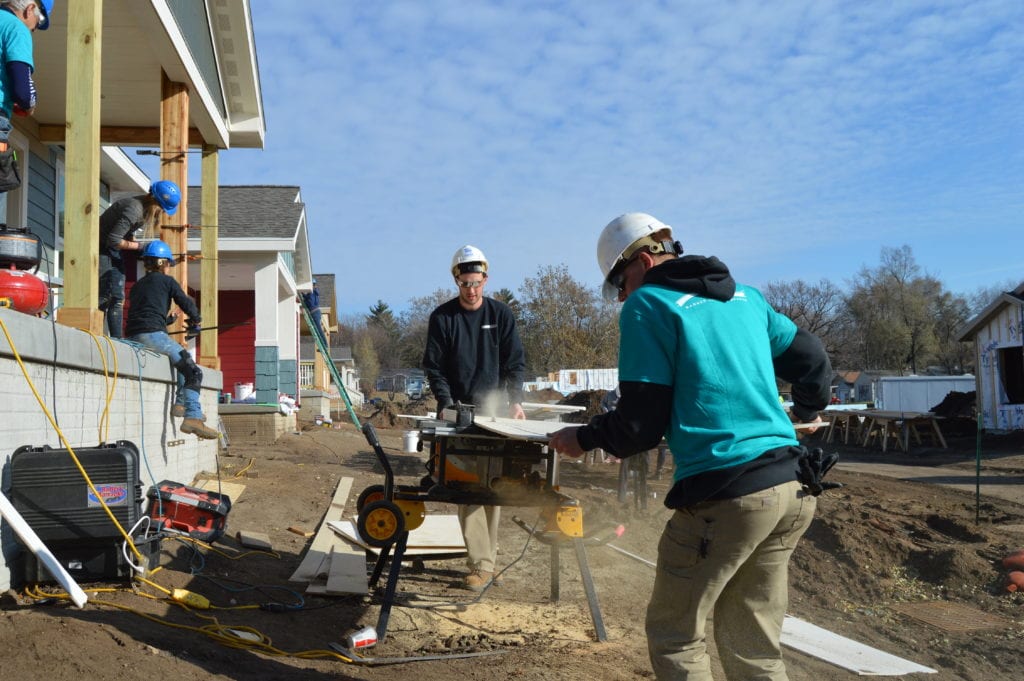 Evora Group's Grander Vision
"It felt good to know you've had the opportunity to make a difference through your work." Shares Environmental Scientist, Steven Strecker.
When President/CEO, Mary Thomsen launched a paid-volunteer program, Grander Vision, in 2016, it was in hopes of engaging staff with the community in a new way- through humanitarian giving; servicing the needs of Iowa outside the parameters of their environmental consulting offerings.  In 2018, Evora Group announced they have seen employee participation in their Grander Vision program grow close to 93%, company wide.
Marketing & Corporate Affairs Coordinator, Jenny Barker has led the efforts to meet a company goal of 100% participation. "I feel there is a real sense of pride associated with volunteering as a representative of your company. You're getting out of the office, but given a chance to work alongside team members in a whole new way. Our staff has really gotten behind not only our goals, but the missions of the nonprofit organizations."
Chosen collectively by Evora Group's staff as their organization to support in 2018, Global nonprofit Habitat for Humanity works across the US and over 70 countries to achieve a vision of a world where everyone has a decent place to live. "We were excited to work with The Greater Des Moines Habitat for Humanity", says Barker. "Through construction and ReStore volunteer opportunities, our staff supported their vision with close to 340 volunteer hours this past year. Hearing that as a whole, Habitat for Humanity helped more than 8.7 million people in FY2018, I'm proud to know that Evora Group's efforts assisted in that impact."
Details are being laid out to continue the Grander Vision program in 2019. "Our staff has passion that reaches beyond these walls." Thomsen describes. "We're building a legacy, and that starts with teamwork and authentic connection, all things you gain when serving together."
---
Learn more about Habitat for Humanity and support their mission.