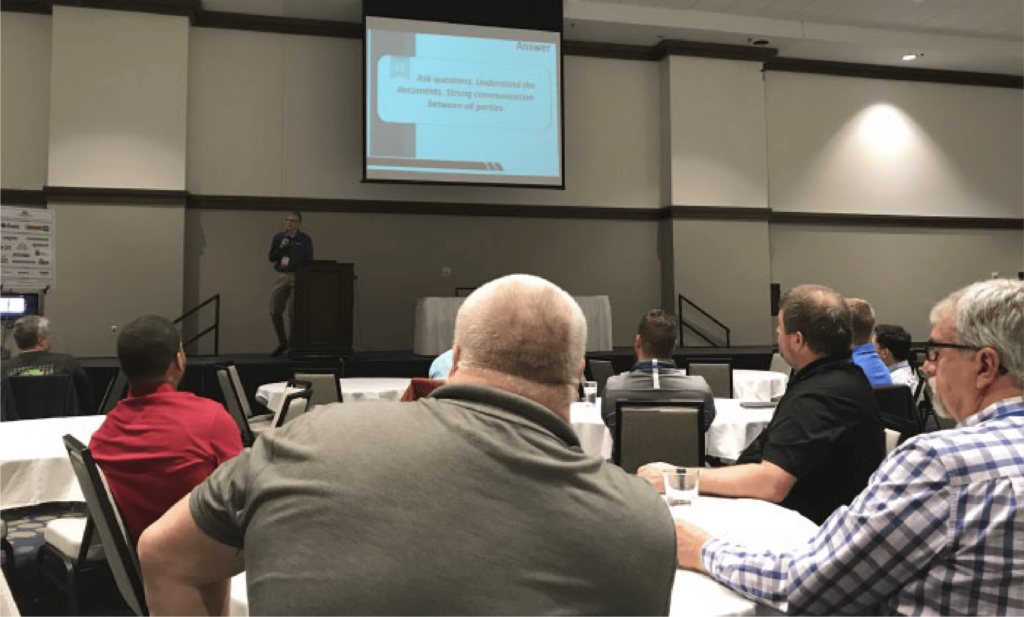 Construction Tips: Spring Conference 2019 Recap
We enjoyed seeing many of you at the 2019 Spring Conference in Burlington, Iowa hosted by the Iowa Society of Solid Waste Operations (ISOSWO). Evora Consulting was a proud sponsor of this event, which brings together integrated solid waste management (ISWM) facility managers, operators, board members and consultants to network and discuss current industry topics.
I was honored to be selected to present Construction Tips relating to items that engineers, regulators, contractors, and solid waste agencies can do to prevent miscommunication, construction delays, and avoid excess costs during construction projects.
In case you were unable to join us, here are the top tips presented during that session:
Communication

Ask Questions. Understand the documents and work hard to maintain strong communication between all parties.

Communication is key from the very beginning. It is never too early to start discussing expectations, needs, wants, budget, schedule, regulations and operations.
Stakeholders must have buy-in. This includes the Owner and Regulators.

Having a clear line of communication from contractor to engineer to site (owner) is crucial. Hire an experienced site inspector to oversee and check in frequently with owner on project status.
Scheduling/Phasing Construction Projects

Prepare your plan. This includes steps for taking systems offline, closing access roads, changing traffic patterns and reviewing contingencies.

Implement your plan. Hold a kick off meeting, as well as pre-installation meetings. Confirm and re-confirm with all parties before implementing

Don't forget to be flexible. Be willing to adjust the plan as needed, even delay the work, if the plan no longer matches the situation.
Documentation

Be aware of the specific reporting regulations as well Owner and technical documentation. Ensure someone is in charge of the documentation so that it is completed, organized, and accessible.

Common documentation includes: Daily Reports, Photographs, Test Results, Shop Drawings, Field and/or Change Orders, Pay Applications, Engineering and/or Legal Documentation, Surveys, As-Built Drawings.

Remember: It's easier to document up front than to recreate necessary paperwork after the fact!!
Startup

If the system is new to the Owner and/or operators, consider requiring startup support from the contractor/manufacturer. Cutting costs on startup usually costs more in the long run.
Have upcoming projects you would like guidance on? Let's meet to discuss your needs, Brian Rath can be reached at 515-256-8814.
---
Brian Rath, P.E., is the Director of Engineering Operations for Evora Consulting. He has over 30 years of construction experience, including 15 years of design and construction experience in the environmental industry. Brian has a B.S. in Civil Engineering from Iowa State University and is a licensed Civil Engineer in Iowa, Nebraska, and Minnesota. Connect with Brian: LinkedIN