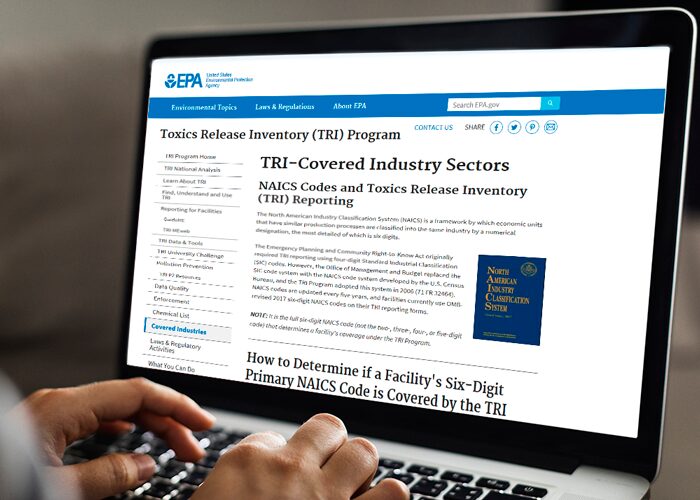 Trying to Navigate your TRI Requirements? Evora Consulting Breaks Down the Regulations
The Toxic Release Inventory (TRI) is an annual report to the Environmental Protection Agency (EPA) on how companies are managing their chemical wastes. This includes releases directly to the air and water as well as management of waste materials through treatment, disposal, energy recovery, and recycling.
Under the Emergency Planning and Community Right-To-Know Act (EPCRA), facilities that employ 10 or more full-time employees, and are designated under specific industry sectors, are required to report TRI-listed waste chemicals that are generated above de minimis concentrations during processing and manufacturing, or that are otherwise generated from facility processes. Persistent Bioaccumulative Toxins (PBT) are subject to reporting whenever the specific release thresholds are exceeded within the reporting year.
Determine if your facility must report. Search TRI-Covered Industry requirements, listed by NAICS codes below:
The EPA determines which waste chemicals are required to be reported and regularly makes changes to this list through EPA-initiated review and the chemical petition process. Therefore, the specific chemicals and their accompanying thresholds may change from year to year. Evora Consulting recommends a thorough review of your facility's six-digit NAICS code requirements and concentrations of known chemicals discharged each year in relation to the updated TRI chemical list, prior to completing your TRI Report.
Resource links to the latest published EPA determinations:
RY 2018 TRI Chemical List (PDF) (published 3/7/2019)
TRI Chemical List Changes (PDF) (published 6/11/2018)
Persistent Bioaccumulative Toxins (PBT) Reporting Thresholds
In-House vs. Consultant Assistance:
With less than 5 weeks to complete RY 2018 TRI reporting, there are still many resources available to help you navigate the process. Accessible to the general public, the EPA's GuideME programs provides a thorough guidance of TRI determinations, completion of forms, and reporting guidelines. Facilities should expect to prepare and submit reports through the TRI-MEweb, a central data exchange (CDX) operated by the EPA. Once you have setup an individual account through the TRI-MEweb, your Certifying Official, a senior management official of your company, can designate a Preparer to upload the information. This allows you the flexibility to complete this process in house, or secure a consultant as your Preparer to oversee the report preparation process.
With close to 25 years of environmental reporting experience, Evora Consulting is available for quick clarification, questions, or to assist you through the complete TRI reporting process. Contact Kevin Jensen at 515-256-8814 to request a proposal.