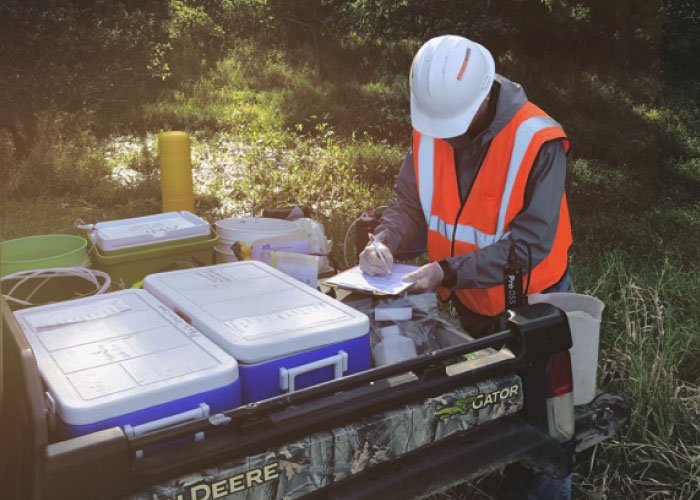 Enhance the Safety Conversations at your Facility
Refuse and recyclable material collections remains one of the five most fatal occupations in the country; according to Bureau of Labor Statistics (BLS) data. With national organizations such as SWANA ramping up to increase awareness and commitments to making the solid waste industry a safer working environment; many local chapters, businesses and members are jumping in to do their part, to keep industry colleagues safe.
A topic not generally discussed within the industry are the safety challenges that field staff face when performing construction and compliance activities at landfills. The safety challenges field staff face are unique compared to other positions at your ISWM facility.
Evora Consulting was honored to be selected to present Unique Safety Risks for Field Operations at Solid Waste Facilities at the 2019 Great Annual Waste Management Conference in La Vista, Nebraska. Whether you had a chance to sit in on our presentation or heard similar messages on national or local platforms, it's important to fight against compliancy. We encourage you to take topics for continued learning opportunities to your organization leaders, to review/update existing safety procedures, and to host refresher safety training events.
Here are some questions and tips that may help enhance the safety conversations related to field operations at your facility: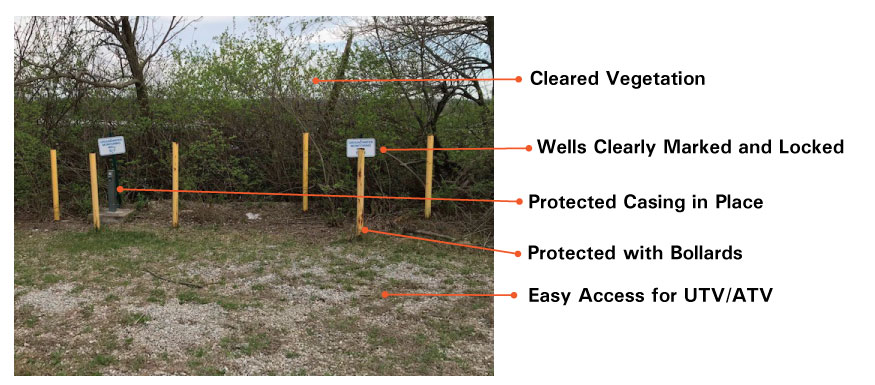 Accessibility & Safety

Establish and maintain safe access to infrastructure.

Field staff may need a lot of equipment to perform tasks – can they safely access the area with the tools needed to do the job?

Do they need to cross erosion ruts or climb ladders to sample wells?

Check the activity area before mobilizing field staff to avoid delays or additional mobilization costs.

Adequately mark and protect compliance points from site traffic.

Bollards, signage, jersey barriers, road shoulder and ditches can help protect operational areas.

Operational Awareness and Safety

Ensure staff are aware of their own sensitivities to vegetative and animal irritants and/or serious health risks.

Do staff know how to identify poison ivy and wild parsnip? Do they know what to do if they make contact with these plants?

Do staff know how to identify potentially dangerous bees, spiders, and snakes? Have they been trained on what to do if stung or bitten?

What could be done to remove these risks?

Avoid entering confined spaces unless properly permitted and trained.

Landfills have a lot of confined spaces (i.e., leachate manholes, vaults, tanks, etc.). Ensure your staff know the dangers of confined spaces and that only those with proper training and permitting may enter confined spaces.

Sampling and Maintenance Hazards

Lagoon liners can be slick and nearly impossible to climb out to escape drowning.

Provide staff appropriate tools and sampling strategies that avoid putting field staff at risk.

Ensure (and double check) items impacting safe sampling and/or maintenance activities have been properly made safe (i.e., deenergized, depressurized, etc.) before performing work.
Remember, the time to discuss safety procedures is not following an injury! Have upcoming projects you would like guidance on? Let's meet to discuss your needs. I can be reached at 515-256-8814.
View our complete Great Annual Waste Management Conference safety presentation.
Andrew Phillips is the Field Operations Manager for Evora Consulting and oversees the field services team and serves as the lead for construction and installation projects. Mr. Phillips has over 16 years of experience with field services including HDPE pipe welding, liner integrity testing, groundwater and leachate pump installation and maintenance, and much more.