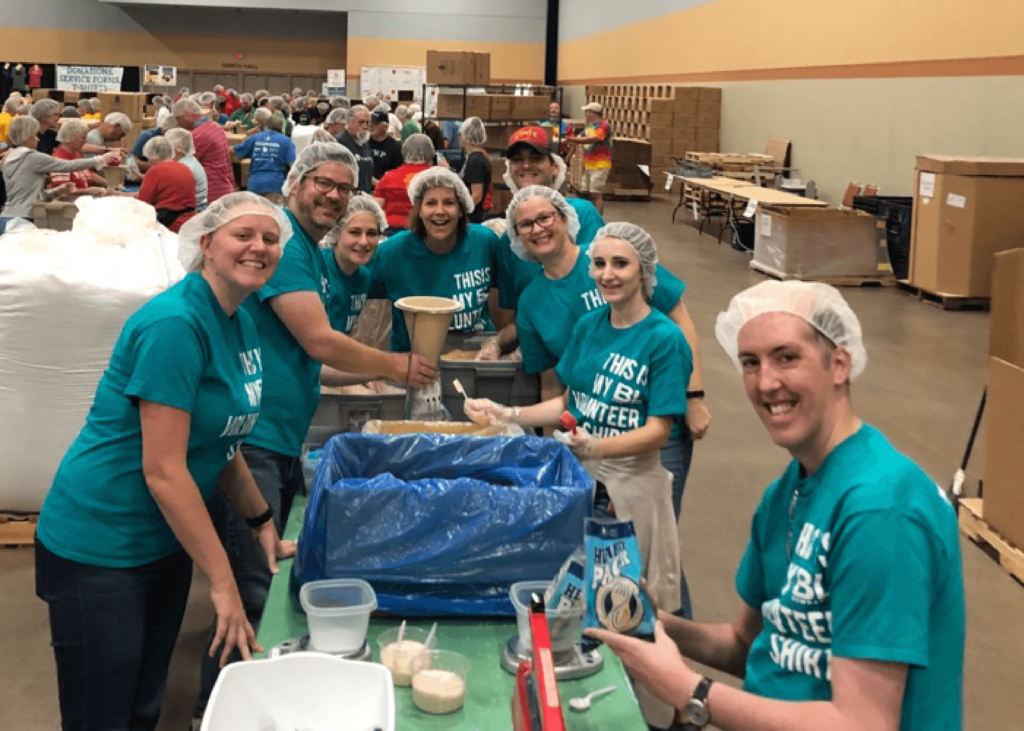 Evora Group Employees Support Efforts to Feed the Hungry
Evora Group's volunteer program, Grander Vision, is now going into its fourth year. President and CEO, Mary Thomsen, launched the program with the hope of engaging team members to step outside of their normal work duties to support programs and corporate goals that demonstrate the company's commitment to leaving a legacy larger than business service offerings; providing volunteer days, sponsored events, and charitable giving opportunities, among other things.

In 2019, Evora Group team members voted to support Food Insecurity. According to Feeding America, 341,890 Iowans are struggling with hunger – and of them 111,520 are children. To break it down, 1 in 9 people struggles with hunger, and 1 in 7 children struggles with hunger, in Iowa.
"Going home to a full pantry is a blessing; thinking of the alternative is heartbreaking", says Thomsen.
Throughout 2019, team members supported the Grander Vision through their 8 hours of paid volunteer time, which is provided annually to each full-time employee. Staff spent a day with the Food Bank of Iowa, DMARC – Stamp Out Hunger, Meals from the Heartland, or Food Bank for the Heartland, to name a few. These organizations rely heavily on volunteer and community partnership support and we are pleased to announce that 95% of our team members engaged in volunteerism for the Food Insecurity mission in 2019!
"Evora Group allowed us to have 'bigger than me' moments through the Grander Vision program", shares Petroleum Services Coordinator, Jackie Jackson, "The eight hours I volunteered filled my heart with pride and accomplishment."
Along with having 308 volunteered hours, over $650 and more than 1,580 food and essential items were donated by staff to combat hunger in Iowa. Ecological and Compliance Analyst, Jamie Lane, shares "Having the ability to give and purchase items to help those who are hungry should be an ongoing goal and not just during the holidays, something I need and would like to remember and act on".
The Food Bank of Iowa fights food insecurity with a network of 625 partner agencies (food pantries, meal sites, shelters, and others) to distribute more than 1 million lbs. of food per month. In the last year, the Food Bank of Iowa had more than 5,900 volunteers that donated about 16,000 hours of time to help feed Iowans in need.
"I am proud that the Evora Group Family did its part in support of this effort; it gives us a great sense of pride and energizes our Grander Vision program!", Thomsen added.
Evora Group's staff is excited to continue working toward our corporate goal of having 100% team participation with 2020's Grander Vision program selection, Environmental Conservation. This year, team members will be working with organizations such as Polk County Conservation and the Iowa Department of Natural Resources to help clean up the communities the agencies serve.
Learn more about how hunger impacts your community at feedingamerica.org.