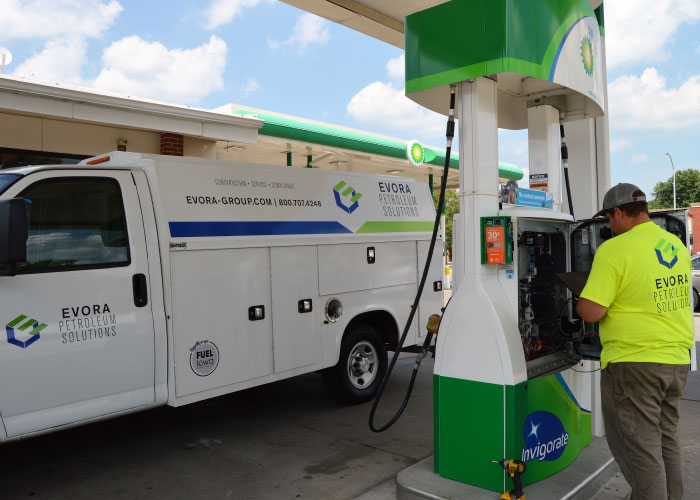 Service, compliance and construction provider, Barker Lemar, announces name change
Barker Lemar Petroleum Services provides prompt, professional, and effective solutions for fuel dispensing operations throughout the Midwest. What began with a single service van carrying a few filters and nozzles to satisfy the needs of existing fuel compliance customers, quickly evolved into a full-service petroleum solutions company serving hundreds of petroleum marketers in Iowa, Nebraska, and Illinois.
In July 2020, we celebrated our 25th anniversary of providing solutions for solid waste, environmental and petroleum industries. It has been, and will continue to be, our honor to work alongside you and your staff to achieve your operational goals. It is at this celebratory time that we want to announce the transition of Barker Lemar Companies into Evora Group and further announce that our Petroleum company will be known as Evora Petroleum Solutions, going forward.
The word Evora is rooted in the word evolve which is defined as to "unfold, open out, expand"; figuratively, it means "to make clear, disclose, produce, develop". We believe our new name embodies our commitment to continue to expand our capabilities and service offerings. While our name has changed, our commitment to you, our valued partners, will not. We have long prided ourselves on rapid response time, reduced return trips, reasonable costs, and pleasant service and construction experiences for our customers. Our comprehensive service offerings have evolved over the years to continue to meet your needs; this includes partnerships with Wayne Fueling System, Verifone, Veeder-Root, Catlow and many other industry leading manufacturers and partners.
It is an exciting time for our industry with emerging technology and solutions available from the forecourt to the retail counter, and we look forward to serving you as Evora Petroleum Solutions for many years to come.
For dispatch or customer services inquiries, please contact our team at 515-256-8814.