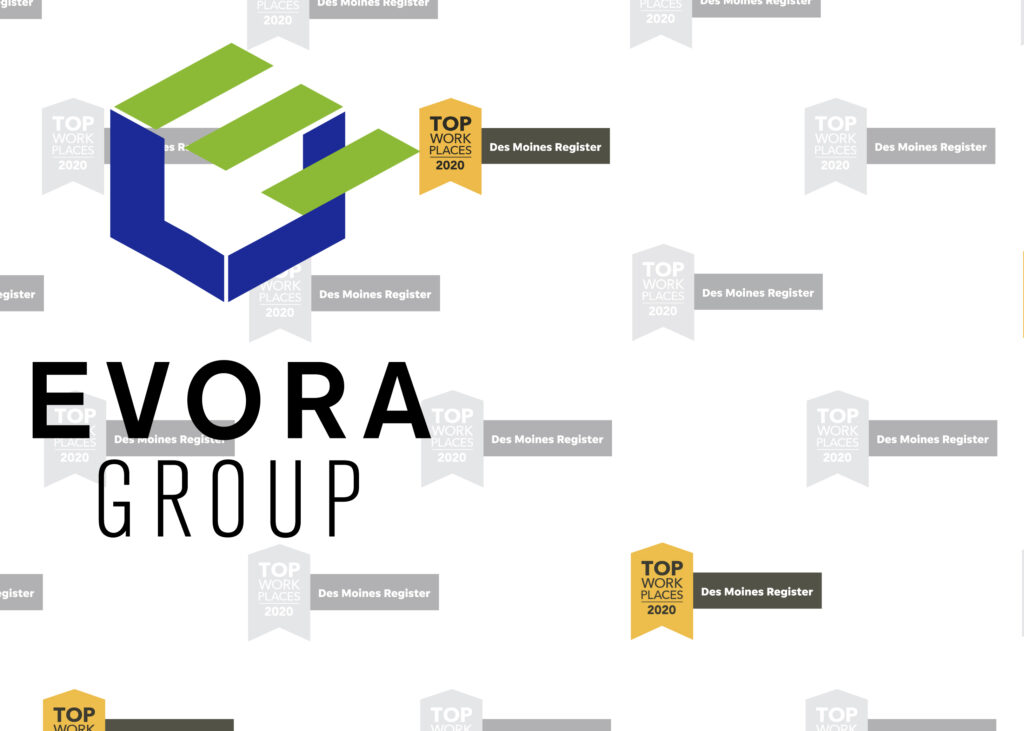 Evora Group Named one of Iowa's Top Workplaces in 2020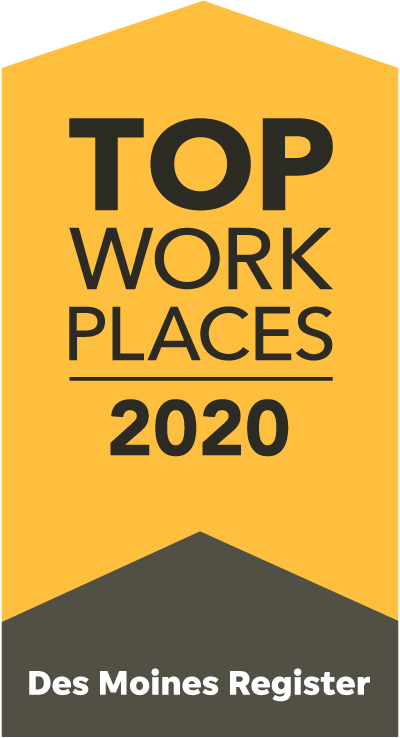 Evora Group's mission statement starts with the phrase "your partner." This perfectly describes our approach to working with clients AND with our employees. With a diverse array of team positions from Environmental Specialists, Engineers, Groundwater Specialists, Drilling Professionals, Geologists, Petroleum Technicians and Construction Installers (to name a few!) – we are proud of our 25-year strong business in Central Iowa.
Evora was first recognized as an Iowa Top Workplace by the Des Moines Register in 2017 and has since won the Top Workplace Award multiple times.  Top Workplace Award recipients are chosen based solely on employee feedback gathered through a third-party survey administered by Energage, LLC. The anonymous survey uniquely measures 15 drivers of engaged cultures that are critical to the success of any organization including alignment, execution, and connection, among others.
"In the middle of a pandemic, when a high percentage of our staff are working remotely from their homes, it is more important than ever to celebrate our Top Workplace culture," says CEO Mary Thomsen. "When we approach challenges, maintain flexibility with our staff needs, and focus on sustaining energy and resilient leadership, we keep our culture and business strong, meeting the needs of our colleagues and our clients."
With social distancing and telecommuting in full swing, Evora has utilized many platforms to keep employees engaged. Utilizing virtual happy hours, trivia games, company-wide staff meetings, and virtual luncheons, the firm has worked hard to maintain their employee-focused culture. This year, Evora is taking on a new approach to celebrating their Top Workplace recognition.  "As much as I appreciate video conferencing, I have to admit, it's not my favorite," explained Thomsen. "I was really wanting the team to know we're here for them and appreciate their hard work and having another Zoom party didn't seem to fit the bill."  Therefore, to celebrate this honor, employees are getting personal goodie bags – most will be hand-delivered to their homes or jobsite by Thomsen herself. "This distinction is about our amazing staff and their individual contributions to our culture and commitment to their fellow colleagues, to our clients, and to our industry. It's well worth the effort to pay a visit and celebrate the honor of being a Top Workplace in person!"
As the firm looks ahead to closing out 2020, growth is still on the mind. With strategic goals to continue increasing their market share in the Midwest, there are some great opportunities on the horizon for anyone looking to build or grow their career in the petroleum and consulting industry. Learn more about what makes Evora a Top Workplace at https://evora-group.com/careers/.
---
In July 2020, Barker Lemar Companies celebrated their 25th anniversary of providing solutions for solid waste, environmental and petroleum industries. It was at that celebratory time, that the firm announced the transition of Barker Lemar Companies into Evora Group. Learn more about our name change here.