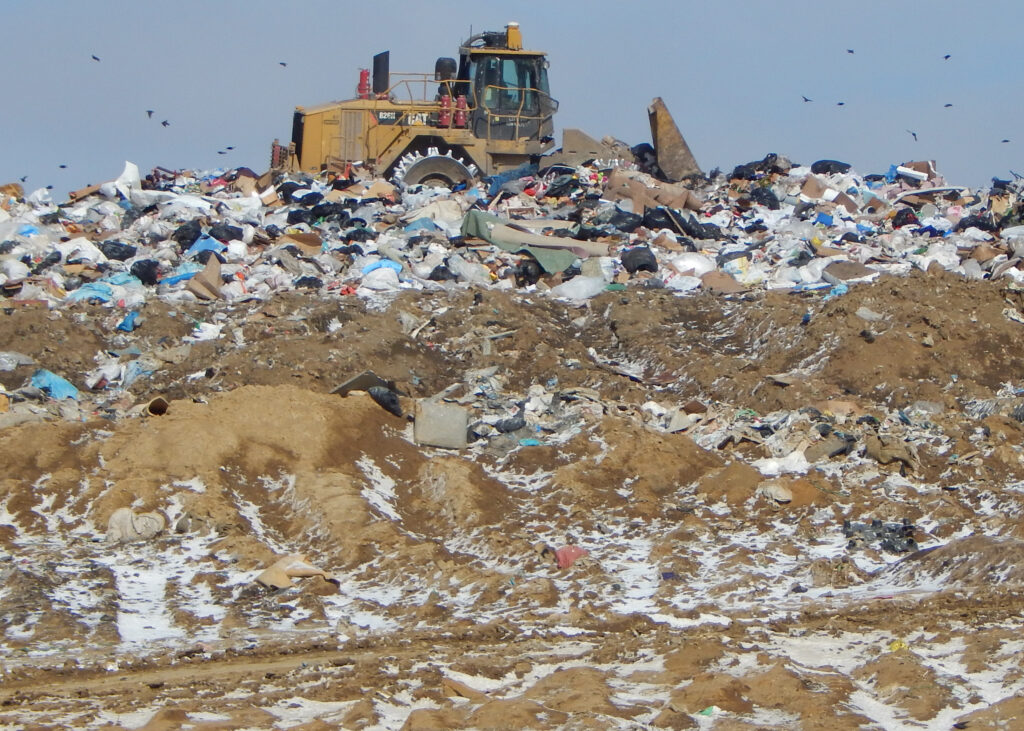 Fall & Winter Tips for Open and Closed Landfills
WINTER IS ON THE WAY – TAKE COVER!
Wet soils with high silt and clay content can be difficult to work with in cold weather. Work to keep your winter cover stockpile well drained. If you have access to regulatory-approved alternative cover soils, consider stockpiling them appropriately for use during the winter months.
FUEL UP FOR THE COMING COLD MONTHS
If you are using a summer blend of biodiesel, have your fuel vendor switch to a winter blend diesel. This fuel is less likely to freeze in lower temperatures. Changing your filters is also a good idea. Over time, filters will trap small amounts of water and dirt particles. Once it freezes, this will turn into slow flowing fuel. Diesel fuel especially needs clean fuel filters when it gets cold and the fuel begins to gel.
Now is the time to inspect hoses and nozzles for leaks and cracks. Remember, a small leak now will be a big leak when it is 0 degrees out! Performing seasonal preventative maintenance on your fuel tank and dispensing equipment can reduce annual repair costs and avoid downtime.
As always, Evora's petroleum service team is available if you are unsure what maintenance your equipment needs
COLD DAYS ARE TOUGH ON EQUIPMENT TOO
Cold weather may create problems in starting and operating heavy equipment, now is the time to make winter preparations.
Have a few extra fuel filters on hand for front line machines. If your machine starts to gel, you can quickly change filters to keep things moving.
Would the installation of an outlet (i.e., at a pump panel or light post) save you time and costs associated with driving equipment back and forth from a maintenance building?
Be sure to review your equipment manufacturers recommended winterization guidelines and complete necessary maintenance.
PROTECTING YOUR LINES
Do you have any shallow lines that may be prone to freezing? Lines related to gas or leachate collection systems, (i.e., condensate lines, extraction system drain lines, lower flow gas lines), leachate recirculation lines, and riser pipes are prone to freezing problems during the winter months.
Drain lines prior to the onset of cold/freezing weather to ensure they don't freeze or crack.
If lines cannot be drained/turned off during the winter months, head off freezing problems by placing wood chips or additional dirt on top of them to add protection.
For gas wells that have water issues and are low flowing, consider surrounding the wells with wood chips or dirt to help retain heat or create a wellhead exchange program to thaw them out as needed to avoid issues with monitoring requirements.
THIS TOO SHALL PASS – WINTER IS NOT FOREVER
Think about where you will be working over the winter and where you want to be come spring.
Push large amounts of snow from flat locations of the active area toward an outside slope. When the snow melts, it will run off as stormwater rather than potentially turn into leachate.
Build berms now that will help direct snow melt and spring rain run-off away from the working face, roadways, etc.
Stockpile cover soils close to your working face for use over the winter to avoid a long-haul during freeze/thaw conditions.
Stockpile roadway and wet weather pad materials (i.e., aggregate alternatives like bricks, concrete, rubble, as well as wood chips) where you will need them.
CAPTURING LITTER
Remember to move your portable fencing to catch litter from winter's northerly winds. Also, consider installing additional rows of short fencing to trap litter that does escape the working face. If installed now, it can help reduce the amount of time necessary during spring clean-up (as litter will be concentrated along fencing, instead of everywhere).
THE CREATURE FROM THE LEACHATE LAGOON!
Leachate management is one of the most costly items in a facility's operational budget. Further operational, compliance, and financial complications can arise when POTW's cut-off acceptance from industrial users during peak events (i.e., severe rains, flooding, etc.).
Lower the leachate level in your lagoon now to create storage capacity for snow melt and spring rains.
Continue to haul leachate during the winter months to maintain desired lagoon levels as conditions allow.
Consider establishing additional leachate treatment agreements with other POTW's as a backup.
HOW DIRTY IS YOUR SCALE?
Cleaning your scales now can help avoid them freezing up in cold weather. There is no guarantee that things won't still freeze, but cleaning them is an easier job in the fall than during the winter months.
Having a paved or well rocked entrance to your scale can help keep the scale cleaner.
Consider installing rumble strips or another traffic control mechanism that may help knock off mud prior to reaching your scale.
Download your preparedness checklist here!
Ready to get started? Evora can help! Our experienced team can work as an extension of your staff to help you prepare for the cold weather, in addition to completing regulatory driven tasks. Call to discuss your project at 515-256-8814.