DFS ANTHEM UX USER EXPERIENCE PLATFORM
Refueling Reimagined, Reinvented & Reborn
Welcome to the future of fuel dispensing.
The DFS Anthem UXTM user experience platform is destined to revolutionize every aspect of the customer experience. From touchscreen, wireless, media, security, contactless payment options and more — to making the fueling experience fast, easy, relevant, and even fun.
This powerful platform allows retailers to connect to their customers like never before, engage them with targeted advertising, media and generate intense loyalty. The Anthem UX platform, without question, is born, imagined and designed to impress. It offers customers unsurpassed functionality and retailers unlimited opportunities.
Retrofit Kits Available for All Ovation 2 Models
Boost sales and profit margins
Digital branding allows retailers to control unique promotions before, during and after fueling. Promote high-margin purchases or loyalty programs to your captive audience.
Double your customizable promotions
Promote relevant products or services based on the time of day and day of the week. Run multiple ads at one time, on one screen, through video and static content.
Enhance customer experience
Effortlessly give customers what they want the most: choices. From traffic and weather updates to volume and screen contrast options. Drive repeat business through engaging interactivity.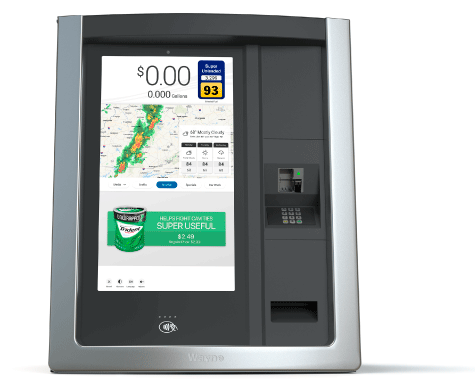 ---
Not just a leap forward - it's fueling reborn
---
Introducing Dark Mode on the Anthem UX platform.
User experience is always at the forefront of our
designs and that is why the Anthem UX platform
comes standard with the Dark Mode feature. At the
touch of a button a consumer can experience high
contrast, vivid branding, while reducing night-time
strain on the eyes, with the added benefit to the
retailer of lower energy consumption.
Loyalty starts at the pump.
Contact us to learn more